RectoVerso's Newest Accessories: The Tennis Socks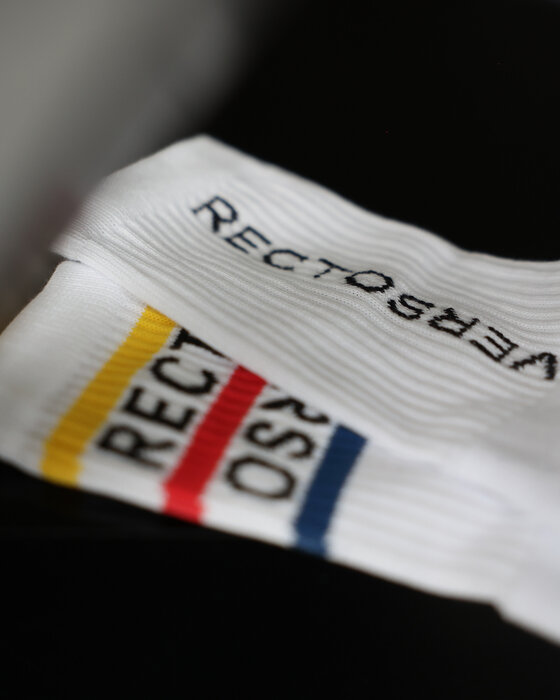 At RectoVerso, we are thrilled to unveil our latest collection of accessories that will redefine your fashion game. Introducing the all-new RectoVerso Socks in both multicolor and classic white options. These socks are crafted with meticulous attention to detail, combining style, comfort, and functionality to elevate your everyday wear. From vibrant patterns to timeless classics, our socks are designed to suit every occasion.
Unmatched Comfort for Your Feet
At RectoVerso, we believe that comfort is key. Our socks are made from premium-quality materials, ensuring a soft and cozy feel for your feet all day long. Whether you're running errands, hitting the gym, or enjoying a casual day out, our socks will keep you comfortable and free from irritation. The gentle yet snug fit ensures that your feet stay happy and relaxed with every step you take.
Embrace Versatility
The RectoVerso Socks are the embodiement of versatility. The multicolor option brings a burst of vibrancy to your ensemble, adding a touch of fun and personality. On the other hand, the classic white socks offer a timeless look that complements any outfit effortlessly. Whether you're dressing up or down, these socks are the perfect finishing touch.
Elevate Your Style
Fashion is not just about clothing; it's about the details that tie an entire look together. Our RectoVerso Socks, with the signature logo subtly embossed, exude a touch of sophistication without overpowering your overall style. These socks are designed to make a statement and reflect your impeccable taste in fashion.
Durability that Lasts
We understand that busy schedules demand durable accessories that can keep up with your daily activities. Our RectoVerso Socks are engineered with reinforced stitching to withstand wear and tear, ensuring they remain in pristine condition for the long haul. No matter how active your lifestyle is, these socks are built to go the distance. and proudly made in Europe too!
A Perfect Gift for Any Occasion
The RectoVerso Socks make for a thoughtful and practical gift for your loved ones. Show your appreciation for their unique style and individuality with our multicolor option or give them the timeless elegance of our classic white socks. Whoever receives these socks will undoubtedly feel special and stylish.
With the launch of our newest accessories, the RectoVerso Socks in multicolor and classic white, we aim to redefine the way you experience fashion and comfort. These socks are a true reflection of our dedication to providing high-quality, stylish, and functional accessories that cater to your unique style and needs. Whether you're dressing up or dressing down, going to work or working out, the RectoVerso Socks will be your go-to choice for elevating your fashion game. Embrace comfort, style, and versatility – step into the world of RectoVerso and experience fashion like never before.
Be the first to comment...