Celebrate Mother's Day with the perfect sporty gift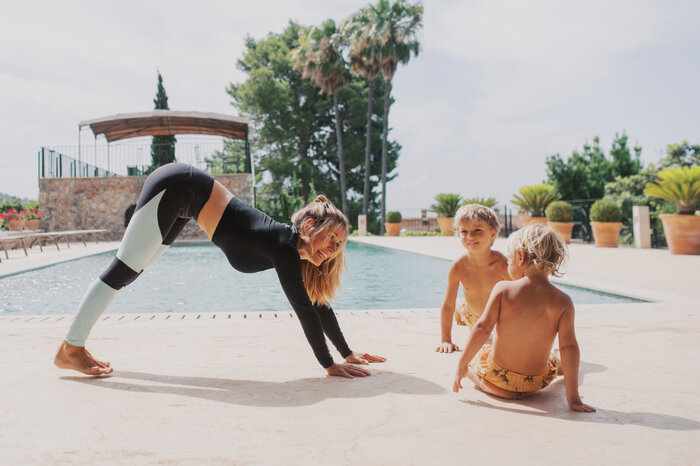 Mother's Day is the ideal time to appreciate and honor the incredible moms who balance their roles as caregivers, professionals, and sport enthusiasts. Active moms are a force to be reckoned with, juggling their busy schedules while prioritizing their health and well-being. This Mother's Day, let's celebrate these inspiring women by exploring the perfect activewear ensemble that combines style, comfort, and functionality to support their active lifestyles.


Versatile and Supportive Sports Bra
Every active mom knows that a good sports bra is the foundation of a comfortable and enjoyable workout. Look for a bra that provides ample support, especially for high-impact activities like running or HIIT workouts. Opt for moisture-wicking fabrics to keep sweat at bay, and enough stretch for a comfortable fit. A versatile sports bra can also double as a stylish crop top when paired with high-waisted leggings or shorts.
Breathable and Moisture-Wicking Tops
When choosing tops for active moms, prioritize breathable and moisture-wicking fabrics that allow for maximum airflow and keep the body cool during intense workouts. Look for tops with strategic mesh panels or open-back designs to enhance ventilation. Consider options like lightweight tanks or short-sleeve tops that offer freedom of movement without compromising style.
High-Waisted Leggings or Shorts
For active moms who are always on the go, high-waisted leggings or shorts are a game-changer. These versatile pieces provide support and coverage while accentuating the natural curves of the body. Choose moisture-wicking and quick-drying materials that keep the skin dry and comfortable during workouts. Pair with a stylish sports bra or a flowy top for a trendy and functional look.
Shop active leggings and shorts


Functional and Stylish Outer Layers
As the weather can be unpredictable, active moms need a functional and stylish outer layer to complete their activewear ensemble. Consider lightweight jackets or hoodies made from breathable fabrics that provide warmth without restricting movement. Look for zip-up options with pockets to store essentials like keys or a phone during outdoor workouts. Choose versatile colors or patterns that can effortlessly transition from the gym to running errands, allowing moms to maintain their active lifestyle throughout the day.
This Mother's Day, let's celebrate the active moms who embody strength, resilience, and a commitment to their health and well-being. By curating the perfect activewear ensemble, we can support and empower these remarkable women in their fitness journeys. Remember, the right activewear combines style and functionality, allowing active moms to tackle their workouts with confidence and grace. So, here's to all the active moms out there—may your Mother's Day be filled with love, appreciation, and the perfect activewear assemble that reflects your remarkable spirit!
Be the first to comment...