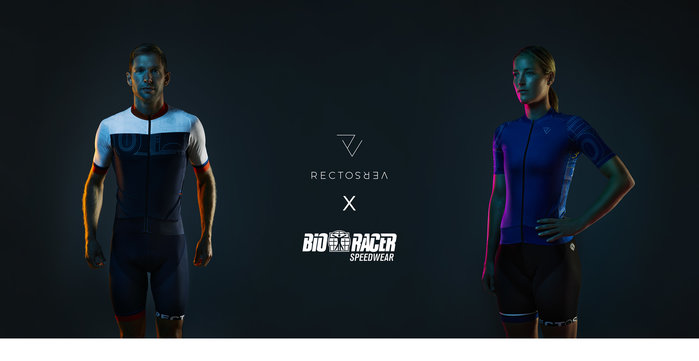 Rectoverso has partnered up with Bioracer, the Belgian market leader in cycling clothing. A Belgian marriage between fashion and sports.
The result of that collaboration? A limited-edition cycling outfit for him and her. A first, because until now RectoVerso has only marketed women's clothing.
The idea literally came about on a bike. The eldest member of the family business, Mathieu Liebaert is, besides innovation manager at Liebaert Textiles, also an avid cyclist. During the lockdown, he noticed how many Belgians got back on their bikes to get through quarantine in a sporty way. "The sporting possibilities were limited during the lockdown. Fortunately, cycling was still allowed. During my evening rides, I witnessed firsthand the steep increase of cyclists on the road. This made me wonder about the opportunities." says Mathieu.
Mathieu suggested this idea to his sister, Camille (RV manager), who has immediately on board. After all, RectoVerso-compliant bicycle garments would immediately meet the demand of numerous customers and at the same time tap into a yet unexplored market. "At RectoVerso we were often asked whether there were chamois skins in the bicycle shorts; unfortunately, this is not the case. Mathieu's idea would certainly help in that part. On top of that, we noticed that there were many opportunities in the market for fashionable cycling garments." Camille notes.
Mathieu: "Unfortunately, the fabrication of cycling garments is too specific to do it in house. The know-how for this product is very niche-oriented and unique, so we had to look for an external partner and, by coincidence, we found one just around the corner."
With Bioracer, RectoVerso enters into a Belgian marriage. "The contacts were already made in a previous project. And because we value this player highly, we've never lost contact. It was very convenient that we are no strangers to each other." Mathieu concludes.
The Belgian company Bioracer has been making high-quality and innovative cycling clothing since 1985.  They are suppliers to many professional cycling clubs, including the Belgian national selection. Just like its clients, Bioracer is always looking for that extra margin to gain a competitive advantage over its competitors.
Bioracer does this with passion and innovation; two ingredients they have in common with RectoVerso.  A match made in heaven.
This Belgian marriage has now given birth to its first child: a high-tech cycling outfit from the Bioracer EPIC line, with the signature RectoVerso colours and print.
---
As per usual, RectoVerso works with 2 Belgian top athletes for its campaign; Belgian Cat Kim Mestdagh and Ironman Bart Aernouts.
Last but not least: the bicycle ensemble is 100% "made in Belgium" in the studios of Bioracer in Tessenderlo. Belgium is a cycling country. Thanks to this co-lab, Belgians can now cycle in style.
For sale here or at CUP Ghent from 26th June to 5th July, where RectoVerso will hold a temporary pop-up. 
For HER AND HIM:
---
Be the first to comment...