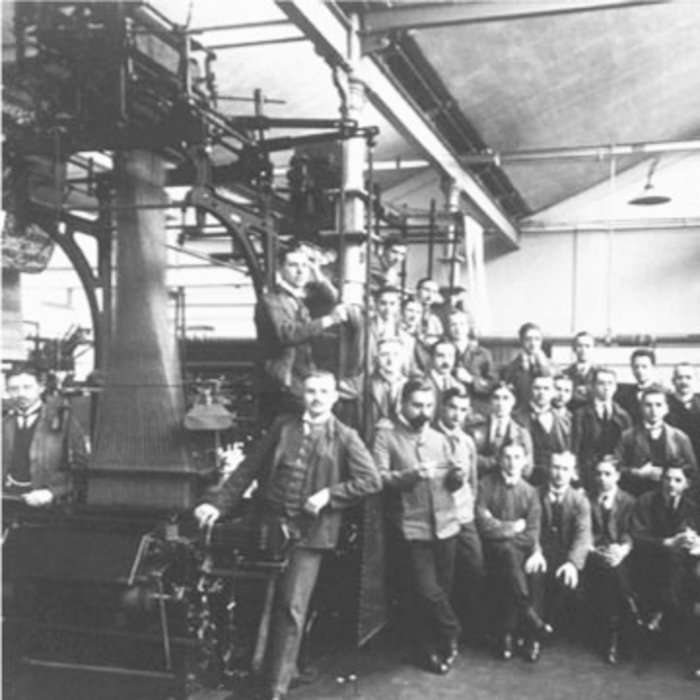 RectoVerso is the culmination of 132 years of pure Belgian textile innovation. Designed with care, created with passion, RectoVerso shows that Belgium's still got it.
Read all about our birth and our mission in this article.
In 1887, our great-great-grandfather Marcel Liebaert started an adventure that would last generations. What began as a production mill for corsetry and suspenders, soon turned out to be one of the industry leaders for elastic yarns and narrows. For years, Liebaert was the most renowned supplier in lingerie, characterized by top quality, inspiring creativity and continuous innovation.
Soon, however, Asia started to flood the market with cheaper prices and lower costs of labour, causing several European suppliers to move their production abroad. Liebaert was faced with the same challenge but responded differently. Where other European business capitalized on their move abroad, Liebaert chose to stick with its diehard belief that producing locally simply adds value. Out of Belgian, Liebaert continued to prove that European flair and design still is as unique as ever.
125 years of Tradition, Know-how, Quality, Innovation & Reliability.
But the consumer's always right. And they are predominantly price-driven. The market for high-end, qualitative lingerie is shrinking. That's why Liebaert re-oriented itself to markets where quality and innovation are still in high demand, such as the medical and sports industry. It's that shift in focus that created RectoVerso.
With that shift, new opportunities emerged. Soon, Liebaert started collaborating with the University of Ghent, more specifically with the Sports Laboratory Jacques Rogge, to test the effect of compressive leggings on the performance and recovery of athletes. This research eventually led to the foundation of a new confection laboratory in Deinze. It was this achievement that kickstarted the idea for RectoVerso.
Today, the research on compressive leggings is in its final phase. As we speak, a series of 80 tailor made leggings are being made for 80 different athletes. These will be tested thoroughly to confirm the highly promising results that have been seen on smaller scale. Once the results have been officialized, compressive legging will be part of the RectoVerso range.
Belgium adds value. It is that simple. We believe that to be true, not only on an individual level but also company-wide. We owe it to the hundreds of families that have been so loyal to us, now, in the past and in the future. However, social responsibility is not only about producing locally, but also about convincing our customers to buy locally in order to keep the momentum going.
That is why RectoVerso garments are produced 100% in our own confection laboratory. Find out more about our sustainability measures here.
"Wear the change, be the change"
Be the first to comment...